Private sightseeing tours in Athens
Athens Sightseeing Tour with AC Travel Group is the best way to explore Athens. Our experienced drivers will take you to all the must-see archeological sites in the comfort of your very own private car.
▸

Starting point: Syntagma Square
Our tour begins with a visit to Syntagma Square and Greek Parliament.
We take Philellinon Street and we head towards the historic sights of Hadrian's Gate and the Temple of Olympian Zeus.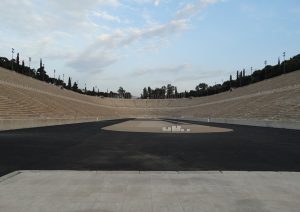 Panathenaic Stadium or «Kallimarmaro» is an architectural miracle, dated back to 330 BC.
It is the place where modern Olympic Games were reborn, in 1896.
Next visit is Herodes Atticus Street with the Presidential Palace and Prime Minister's Hall. A brief stop there will give you the chance to see the changing of the presidential guard with the traditional Greek attire.
▸ 

Zappeion – Unknown Soldier – Catholic Church
We drive towards Zappeion, the Monument of the Unknown Soldier, and the Catholic Church.
▸ 

University – Academy of Athens – National Library
Our next destination: the Academy of Athens and the National Library.
You will also have the chance to see the statue of Theodoros Kolokotronis, one of the most important figures of Greek Independence from the Turkish occupation, in 1821.
The Acropolis is the most famous and important monument of Greece.
You have the chance to climb up the Sacred Rock of the Acropolis and admire Parthenon, one of the greatest achievements of the human spirit. A visit to the Acropolis Museum should not be missed.
▸ 

National Archaeological Museum of Athens
The National Archaeological Museum of Athens is the largest archaeological museum in Greece and one of the most important museums in the world devoted to ancient Greek art. It was founded at the end of the 19th century to house and protect antiquities from all over Greece, thus displaying their historical, cultural and artistic value.
Next stop is Lycabettus Hill, the highest point with a magnificent view of the city.
The place is ideal to relax and enjoy a cup of tea along with the panoramic view.